Refrigerator repair, washer/dryer repair, dishwasher repair: At Ralph's Appliance Service, we do it all. Our team is committed to helping alleviate appliance problems large and small. From minor annoyances like rattling and noises to major problems like leaks or appliances that won't turn on, we're here to help. When you need appliance repair service in Tampa, give us a call and we'll bring you affordable, professional appliance repair and get your household back on track fast! Don't let inoperative or malfunctioning appliances inconvenience you or drive you nuts, let Ralph's Appliance Service get them back into peak working order again ASAP!

Professional Appliance Repair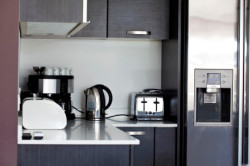 When it comes to your appliance repairs, quality counts! You want a repair you can rely on, not a half-done job that doesn't last or a service call that doesn't actually repair the problem you're having with your appliance . For quality major appliance repairs from expert technicians, you'll want to contact Ralph's Appliance Service. Our team has over 26 years of experience, and as licensed, insured appliance repairmen, you can rely on us to do the job right every time. At Ralph's Appliance Service, our technicians take the time to troubleshoot the problem with your appliance, diagnose the issue, and then completely resolve it. From the most complex refrigerator repairs to the most basic washing machine repairs, our staff of professional appliance repair technicians is ready to make certain the job is done right the first time.
Precise Appliance Installation
At Ralph's Appliance Service, we realize that, sometimes, an appliance repair just won't be able to cover the damage. Occasionally, a decades-old refrigerator or dryer will simply be too old or decrepit to warrant a repair job. If that's the case and you decide to replace your unit, we're available to help you with the entire appliance installation process. Our appliance installers will make sure all of your gas lines and water mains are hooked up properly during the project, ensuring long-lasting and efficient performance from your brand-new appliances for years to come. A proper appliance installation job requires careful attention to detail and precise handiwork, so you won't want just any appliance company at the helm. Instead, Ralph's Appliance Service has the years of experience and training to deliver amazing results right from the start.
Affordable Rates
When your dishwasher or dryer starts acting up, you may think it's time to bite the bullet and buy a new appliance. But in most cases, a malfunctioning appliance only needs a minor adjustment or one part replaced… So don't just assume you need a new washing machine or refrigerator! Save yourself some big bucks by calling Ralph's Appliance Service. We specialize in efficient, effective appliance diagnostics and repairs, and we can make certain your appliance is back up and running at a reasonable price. And unlike some unscrupulous appliance repairmen, our professionals will actually tell you in the unlikely case that purchasing a new appliance will cost less than fixing your current model. Working to take great care of all of our customers with affordable pricing, expert technicians, and honest, respectful customer service, Ralph's Appliance Service is here to serve you when you need fridge, washer, or dishwasher repairs!
24-Hour Emergency Appliance Repair Service
There are no set business hours for appliance malfunctions, so what good is an appliance repair company that's only available from 9 to 5? At Ralph's Appliance Service, we're pleased to offer 24-hour, around-the-clock appliance services. That means whether you need immediate refrigerator repair to keep your food from spoiling or you need washer repair to stop that leak before it causes any more damage, our professionals are here to help. Our 24-hour appliance repair services mean you get the same expert workmanship and superior customer care at 10 p.m. as you would at 10 a.m. Whatever your needs for washing machine repair, dryer repair, or oven repair, whatever the time of day, Ralph's Appliance Service is here to resolve all of your appliance repair needs.
Appliance Repair Parts
Ralph's Appliance Service is also pleased to be your appliance repair parts outlet. Offering a huge stock of appliance parts for stoves, fridges, and more, we can help DIYers get the replacement parts they need to get virtually any appliance back up and running again. Your appliance parts store as well as repair technicians, we're your one-stop shop for just about any appliance repair need. Whether you're in the market for refrigerator repair parts or full-service washer/dryer repair, our team can take great care of you. Call now or send us an e-mail to learn more!